David Prutton's final 20/21 Championship table and playoff semi-final predictions have been revealed ahead of the much anticipated fixtures.
The former footballer turned pundit has given score predictions for every round of the Championship, and now that has been put into a table to see how it compares with the final standings.
David Prutton predicted all 552 Championship games of the 2020/21 season. But how did the EFL presenter get on with his tips?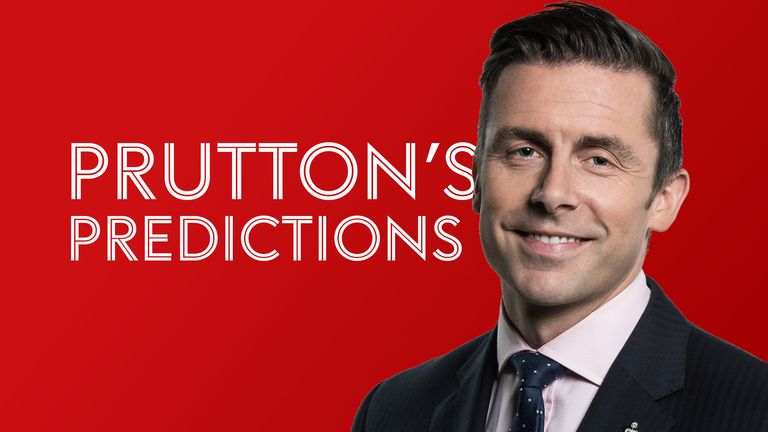 Sky Sports said: "Prutton successfully managed to predict Norwich as the champions! He also correctly called three of the four sides that eventually qualified for the play-offs, and two of the correct relegated sides Rotherham and Wycombe.
"Although Prutton has the six right sides in the top six, he didn't quite get them in the right order. He has Swansea in second, when they actually finished fourth, and Watford in fifth – when the Hornets finished second.
"Prutton also had Derby in his relegation zone, when the Rams actually narrowly evaded the drop on the final day of the season.
"The most glaring error from Prutton was undoubtedly the position of Sheffield Wednesday. The Owls eventually finished bottom of the Championship, but he had them in a far more comfortable mid-table position.
"He also had Nottingham Forest far too high (17th to 10th), and QPR far too low (ninth to 19th)."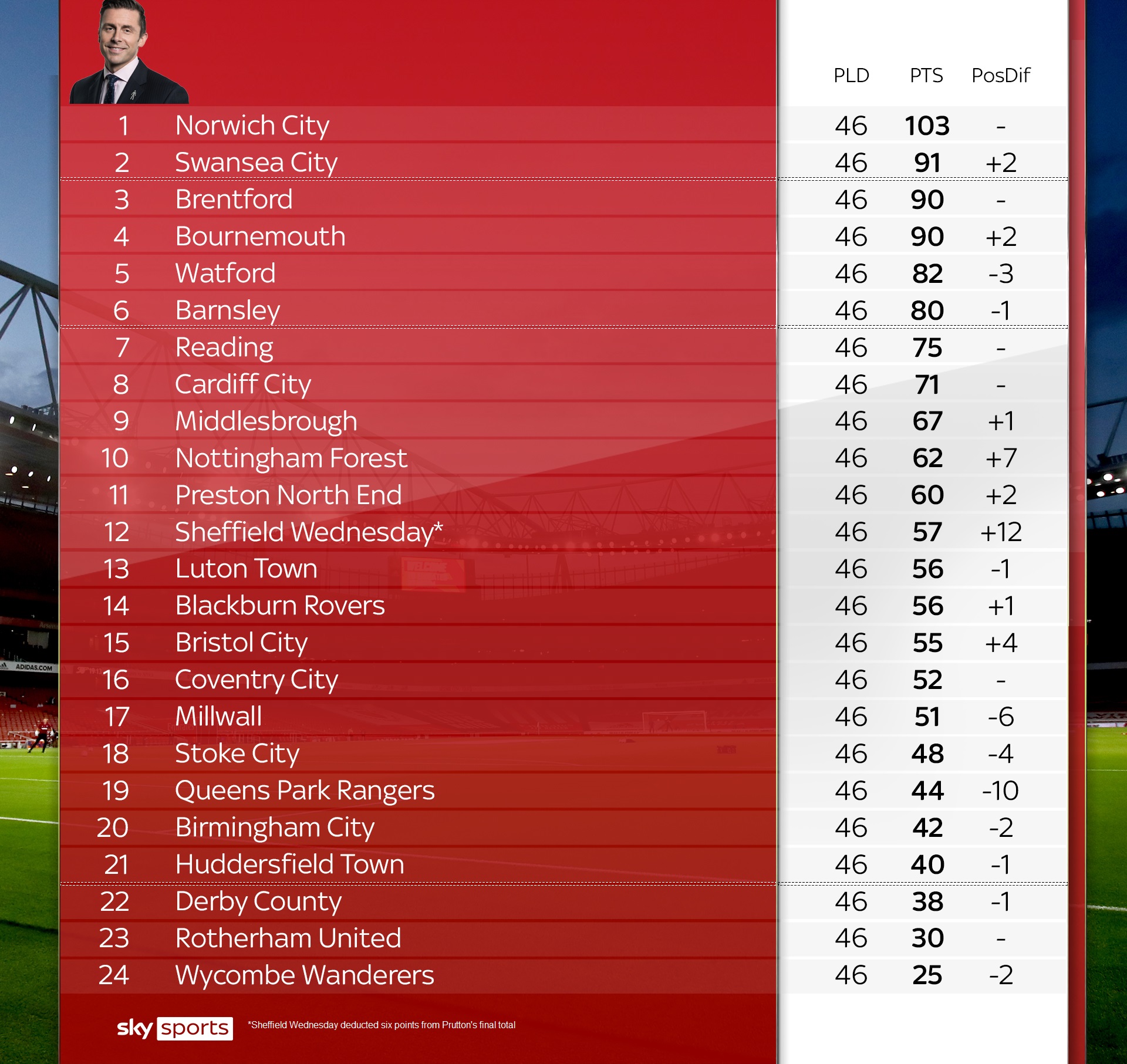 PRUTTON'S PLAYOFFS PREDICTIONS
Bournemouth v Brentford
So, after one of the most unique seasons in living memory, we have reached the play-offs and first up on Monday night is the clash between Bournemouth and Brentford, a match-up many had hoped would take place in the final at Wembley on May 29.
Three defeats at the end of the season for the Cherries – including surprise losses to Wycombe and Stoke – put paid to chances of that happening, however. It was a disappointing conclusion for Jonathan Woodgate's men, who had re-established their place in the top six with a marvellous run of seven straight wins throughout March and April.
It was quite the opposite for Brentford, who finished with a 12-game unbeaten run, kept six clean sheets in their last eight and won the last four in a row. In the end, they only missed out on the second automatic promotion place by four points and coming so near to the Premier League should spur the Bees on to do the job this year having come so close last year.
I am convinced this will be a cagey affair, with Brentford taking a 1-0 win into Saturday's second leg in west London.
David Prutton predicts: 0-1
Barnsley v Swansea
So, after one of the most unique seasons in living memory, we have reached the play-offs and second on the bill on Monday night is the clash between Barnsley and Swansea, which is a very intriuging match-up.
It has been referred to countless times already throughout the campaign, but what Valerien Ismael has done at Barnsley is nothing short of remarkable. To think they were struggling to stay in the division just a year ago and are now potentially three games from Wembley is an amazing feat that cannot be understated. They ended the regular season with a 2-2 draw against Norwich, too, which should bode well for confidence.
For Swansea, a second successive play-off campaign lies ahead and hats off to Steve Cooper for guiding them into the top six in both of his first two seasons in senior management. They will certainly be desperate to avenge last year's defeat to Brentford, though come into the game off the back of just one win in five outings.
However, I'm not sure that prior form will mean all that much heading into this game, so I will have to go for a draw as I just can't split them.
David Prutton predicts: 1-1
As David Prutton's final 20/21 Championship table and playoff semi-final predictions were revealed, fans gave their reaction…
@ronnabe: For one of the most unpredictable leagues around (less-so with this season's top 6), that's some good going
@HoItender: That was a decent effort tbf, I wouldn't have put Barnsley near the top end never in a million years fairplay
@SimGholam: I'm as surprised as anyone how relatively well this has turned out…
@maljacqpr: Never underestimate QPR! 😊
@DeanJon13024024: No bias to his ex clubs then 😂
@17LUFC: This is class, even predicted Barnsley in the top 6
@KingyOwl: I'm not surprised Wednesday are predicted way too high. He seems to predict a positive result for us every week! Clearly still has a soft spot for the club.
@TomRodgersFJ: The hatred for Derby is real
@ForeverAYellow: Tbh though, Derby were shit this season so was kinda close with them lol
@tommyyjames: Got Cov bang on wow
— NSzn™️📌 (@afcNSzn) May 12, 2021
Surprised Rams not bottom too , predicts them to lose every week .

— brynnie (@BrynnJones40) May 10, 2021