Crystal Palace unveil a gory banner in protest of Newcastle's Saudi owners following 'serious human rights breaches' during Saturday's clash.
Fans unfurled a huge banner protesting at the new ownership of Newcastle – accusing them of terrorism, beheadings and murder.
The supporters in the Holmesdale Road end held the giant mural aloft just before the two sides entered the pitch at Selhurst Park ahead of their Premier League game.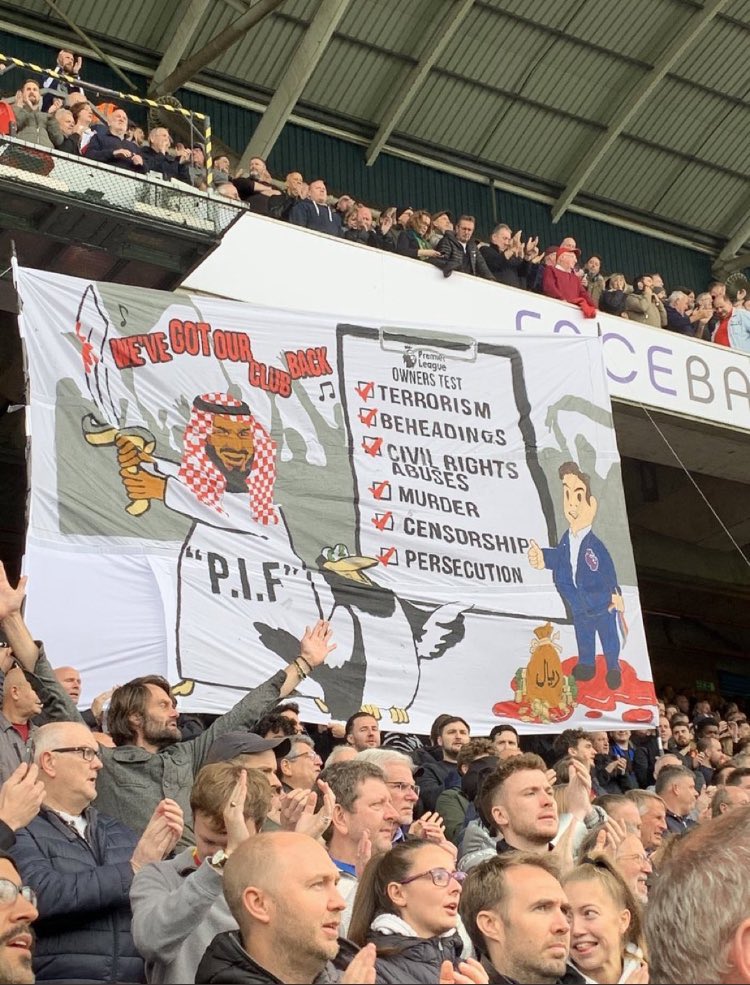 On it was an image of the Saudi Investment Fund PIF brandishing a sword, with Premier League chief executive Richard Masters holding a dagger with blood dripping at his feet around a bag of money.
There was also a checklist of offences human rights organisations say the Saudi regime is responsible for, with a tick next to each one.
The offences were: terrorism, beheadings, civil rights abuse, murder, persecution and censorship.
The Palace ultras wrote a statement during the 3pm kick off: "The Saudi led takeover of Newcastle has rightly received widespread condemnation and anger.

"It is clear the P.I.F is a front for the tyrannical ruling Saudi regime and by endorsing this, the Premier League has made a mockery of its own 'Owners and Directors' test.

"The Premier League has chosen money over morals and in green lighting this deal, has done business with one of the world's most bloody and repressive regimes.

"A country controlled by fear where women are second class citizens, same-sex partnerships banned journalists silenced, imprisoned or killed and 'dissidents' brutally persecuted now has a foothold In our national game.

"To give the 'thumbs up' to this deal at a time when the Premier League is promoting the women's game and Inclusive initiatives such as rainbow armbands, shows the total hypocrisy at play and demonstrates the League's soulless agenda where profits trump all.

"Newcastle, as a team, is now being used to sportswash the blood from the hands of corrupt governance and deluded supporters should consider that reality when singing of 'getting their club back'

"We are lucky to live incountry where we can display a banner such as this without repercussion.

"Many in Saudi Arabia wish they were afforded those same basic rights."
Newcastle were then roundly booed by the home crowd as they entered the field.
Visiting supporters from the North-East, with a handful wearing Saudi costumes, did not respond although a Saudi flag was unfurled.
Human rights organisation Amnesty international say the purchase of Newcastle was an attempt to 'sportswash their appalling human rights record with the glamour of top-flight football.'
CEO Sacha Deshmukh said: "Instead of allowing those implicated in serious human rights violations to walk into English football simply because they have deep pockets, we've urged the Premier League to change their owners' and directors' test to address human rights issues.
"The phrase 'human rights' doesn't even appear in the owners' and directors' test despite English football supposedly adhering to Fifa standards.
"As with Formula One, elite boxing, golf or tennis, an association with top-tier football is a very attractive means of rebranding a country or person with a tarnished reputation.
"The Premier League needs to better understand the dynamic of sportswashing and tighten its ownership rules."
Middlesbrough supporters displayed it during their 2-0 Championship victory against Peterborough United last weekend, taking aim at Newcastle United's recent takeover.
Boro fans took aim at the Toon Army by displaying a banner saying: "£300m has bought your club and your morals. F*** NUFC."
The Premier League approved the takeover due to assurances from Newcastle that the Saudi state and the Public Investment Fund were separate entities, but it's not stopped criticism aimed at them.
In a statement, they said: "All parties have agreed the settlement is necessary to end the long uncertainty for fans over the club's ownership.
"The Premier League has now received legally binding assurances that the Kingdom of Saudi Arabia will not control Newcastle United Football Club.
"All parties are pleased to have concluded this process which gives certainty and clarity to Newcastle United Football Club and their fans."
Fans have reacted as Crystal Palace unveil gory banner in protest of Newcastle's Saudi owners…
@jeannegenius: Banner omits equal rights for women! I think women have only recently been allowed to drive and have to get permission from a male relative to be allowed to travel.
@Tonymcgee1971: I'm surprised that's allowed these days
@GeoffTebbetts: Granted, this is Crystal Palace's ultras unfurling this, but yikes
@googoogajoob78: Ah we are public enemy number one, we have to get used to it
@DavidMonks1: Fantastic, bring it on. Haters gonna hate.
@Caz8maw: @kickitout Are hypocrites if they don't put a stop to offensive banners from our opponents . We will have to keep wearing head scarves . Now let's see if #EPL do speak out and #kickitout condemn the @CPFC fans?. @DCMS #NUFC
@kyle__98: Don't like them, but respect this.
@GMizzle_SW: I had a lot of respect for Palace's fan base & culture overalls. Even more so now #CPFC #Eagles #PremierLeague 👏
@Perdesthai: There's a lot of solidarity with Toon fans, lots of clubs have had unsuitable owners, & we all suffer as money drags the game away from us. But there're people reveling in this despite the very serious and very obvious downsides and those people are helping accelerate the harms.
@don_ants: Should be at every football stadium.
@SimonBird_: Hope may be back among Tyneside fans, but this may now be the defining image of Newcastle United around the country. Crystal Palace unveil banned attacking/mocking Saudi PIF ownership of #nufc and they won't be the last.
@daveraybould: Good on the Palace fans
@pomer82: Palace only saying what everyone knows.. just had the bottle to show it.. fair play
@Leithe81853874: Class from the Palace supporters. Big cheers up!
@EliteTier1: every word written is facts though
@CFCHeadquarter: Good was a racist banner
@OliverRender: Whatever the punishment, I'm proud that Palace are the first ones to speak up against the Premier League allowing the Newcastle takeover to occur. How is it acceptable that a regime with a horrific human rights record can nestle in and influence our beautiful game? Shameful.
@mygirlsmyworldx: This takeover has been in place for over 18 months….. if people were so concerned why didnt they lobby MP's or the PL. Is it because it is more effort than making an attention grabbing banner?
@GrantMitchell00: Blair covered quite a few of those and apart from beheading as we prefer wrist cutting to look like suicide, other governments since 1969 have completed the rest. The noise of the plastic virtue badges is overwhelming. I'm surprised any aeroplanes can take off for the green eyes
@Adam_Palace:
Dealing with owners who abuse human rights ❌
Dealing with a poster that displays their wrong doing ✅
@_YTCP_ (@MPSCroydon): Or you could start making the streets of Croydon safer for everyone instead…
@JackkBarton (Replying to @MPSCroydon) Oh do me a favour. Talk about a waste of police time.
@elliotr76 (Replying to @MPSCroydon) Haven't you embarrassed yourself enough recently!!
How ridiculous. Why don't you spend your time focusing on real crime in croydon instead.. Lord knows there's enough of it.

— RyanJW (@RyWa28) October 23, 2021