Chelsea player Marcos Alonso takes up an alternative to taking the knee as he speaks out on the stance, with the majority still doing it.
The 30 year old defender says he will stop kneeling before matches as he believes the anti-racism gesture is "losing strength".
The Spain left-back says he will instead point to the Premier League 'No Room for Racism' badge on his sleeve, while other players around him kneel ahead of kick-off.
Since the Premier League resumed in the summer of 2020 after a Covid-enforced break, players, officials and staff at games have been taking a knee before kick-off to show support for the movement for racial equality.
"I am fully against racism and I'm against every type of discrimination, and I just prefer to put my finger to the badge where it says no to racism, like they do in some other sports and football in other countries," Alonso said.
"I prefer to do it this way and, of course, to say very clearly that I am against racism and I respect everybody."
When questioned whether or not his decision to stop taking the knee had anything to do with politics, Alonso said: "I don't know, I just prefer to do it this way. It's my way to do it, I think it's another way.
"And maybe I think it's losing a bit of strength the other way, so I just prefer to do it this way and to show I am fully supportive of fighting against racism."
Crystal Palace player Wilfried Zaha became the first top-flight player to opt out of the gesture, earlier in 2021, after stating his belief that taking a knee is "degrading".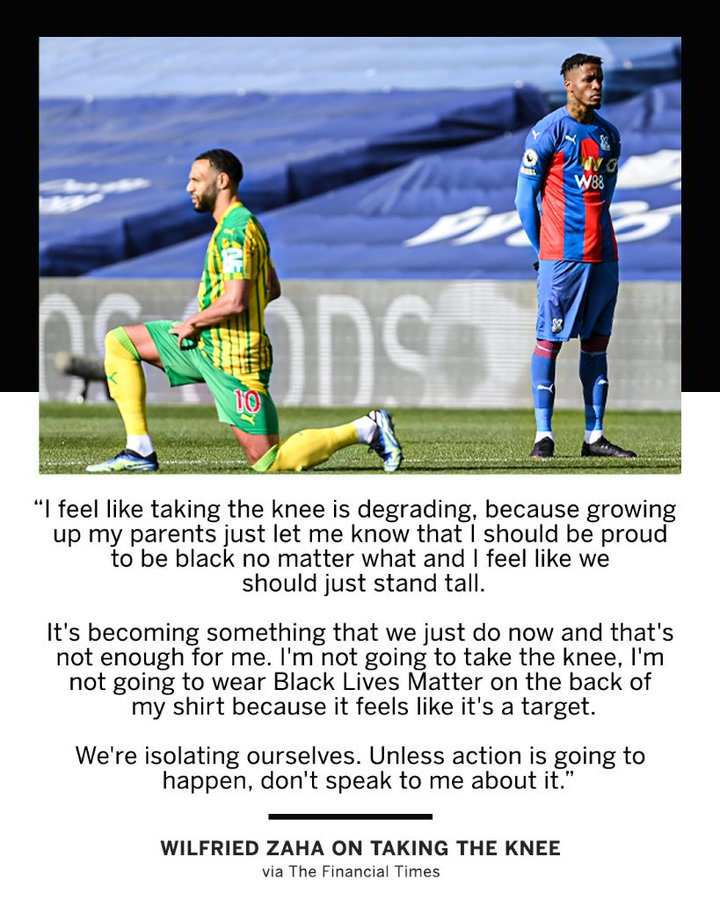 Alonso, who was speaking to the media following Chelsea's victory over Tottenham at the weekend, said he had not discussed his decision with any of his Chelsea team-mates, several of whom have been victims of racial abuse.
Reece James, Antonio Rudiger, N'Golo Kante and Romelu Lukaku have all faced abuse in recent years, with England international Reece James temporarily deleting his Instagram account earlier this year due to the scale of online abuse.
"No, we haven't talked about it," Alonso said.
"We are in the changing room and we are like a family. I have a very good relationship with everyone, I love everyone and up to now we haven't talked about it. I don't think there is a need to, but, of course, if I have to speak to anyone, I will say the same thing I just told you and I don't think there will be any problems."
Alonso confirmed he intends to maintain his stance for the rest of the season, adding: "Yeah, for now I prefer to point to the sleeve and that's what I will do."
Meanwhile, Brentford players will take a knee before matches this season but Ivan Toney will continue to stand.
"Brentford FC can confirm that our players will take the knee before all first-team matches in the coming season," a club statement said.
"Our players and staff held meetings to discuss whether or not to take the knee at kick-off, having not done so since February. We believe that in the upcoming season the collective cause of tackling discrimination and racism will be best served by acting in unison and solidarity with all our fellow Premier League teams, as was outlined in a statement from the Premier League yesterday.
"Taking the knee will not on its own solve the problem of racism but it will continue to draw attention to the discrimination that exists within football, as well as society generally. We all saw the support that the act of taking the knee received from fans before matches during Euro 2020.
"With fans now back at stadiums for the upcoming season we want to play our part in keeping the fight against discrimination at the forefront of the agenda."
However, Brentford also confirmed that Ivan Toney would prefer not to take a knee and will continue to make his own personal statement before matches – a decision they say they fully respect.
🗣 "It doesn't matter what you do, as long as you do what you're doing behind the scenes, that's all that matters."

Ivan Toney explains why he will continue to stand before kick-off whilst his other teammates will take the knee pic.twitter.com/XR3EGogEee

— Football Daily (@footballdaily) August 13, 2021
"The club respects the rights of all individuals to show their opposition to discrimination and racism in whichever way they feel is most appropriate to them," the statement added.
"During our meetings to discuss these issues, Ivan Toney told us that he would prefer not to take the knee and will continue to make his own personal statement before matches this season. Brentford FC stands fully behind Ivan's decision and will continue to support him in any way we can."
What do you think, has taking the knee lost it's meaning or should the players keep doing it? Let us know via our socials.
Twitter users reacted as Chelsea player Marcos Alonso takes up an alternative to taking the knee as he speaks out…
@PelePerformer: Taking the knee won't stop racism. Martin Luther King couldn't so taking a knee won't either. It is however there to keep the conversation going. My son (who is 5yrs old), asked me about why players take a knee. I took the opportunity to explain racism. That's it's purpose.
@mharsley88: I agree with this, it's obviously not going to stop racism, that's a ridiculous thought if ever someone had it, it's there to raise awareness and hopefully influence a younger audience from an early stage.
@LFC_Trystan: Taking the knee is literally the most pointless thing ever it hasn't done anything and never will tbh
@nervynetworks: He's right though isn't he? Most of it is performative and is done for optics. I have no idea what it is meant to achieve. I'd rather all these millionaires donate for racial awareness programs across the UK
@Mikeygrunwell: It's literally an awareness/ solidarity exercise. The whole point is the optics 🤦‍♂️ Did you think they were actually thinking racism would stop because of it?!? Fucking hell
@WestHamPlace: A man of such moral principles
@toshtheblues: Fans who boo are not against the anti racism. They are against the taking the knee gesture. So surely if every player just stood and pointed to the badge they would be only cheers and clapping and no booing
@SweeperKeeperMN: There's nothing wrong with this. It should be down to the players. If the Premier League just asks every player to do it every game, it becomes a corporate message and loses value.
@Mikeygrunwell: Can't wait for his anti drink driving stance.
@thodorislfc: If you want to stop racism, you have to find more effective solutions than taking the knee. It's not enough to just "say" you're against it. I stand with Alonso, find another way, ffs! We're in 2021 and we still "scream"?
@BatesInThePlace: Marcos Alonso is very fortunate to still be a professional footballer. I've never sung his song at a game because I won't glorify a person who has killed someone drink driving. I'm very uncomfortable with him being in the squad and this "stance" he's taken just exacerbates that.
@TOSOTC_CFC: I see rival fans unnecessarily giving Marcos Alonso heat because he won't take the knee. It's not like he's opposing the cause, it's simply that he's taking a different action to support it. What's wrong with that? In all honesty, taking the knee is losing it's value.
@CasperoBull: Marcos Alonso coming up with a pathetic excuse there. A white player arbitrarily deciding the knee is "losing strength" so I don't fancy it anymore.Love to know by what metric or measuring system he's using to make this judgement.
@Carefree_Jam: No problem with this. Taking the knee shouldn't be booed but it's served its purpose of keeping the conversation alive for something that is all too easily swept under the carpet. We need to progress the gesture now
@whiskeyboy83: Been watching the fever pitch episodes and hearing Les Ferdinand saying they've been doing these gestures for racism for 26 years now and nothings changed so he would never do another one again so I you can't really blame players for no longer taking the knee