AFC Bournemouth claim that they will investigate an 'unauthorised tweet' which was sent from club's official account on Wednesday night.
The Championship outfit are trying to work out how a post was published at 11:49pm on the 28th of July by their official Twitter account which appeared to tease a new signing it was seem.
The Cherries account, which has over 568,000 followers on the social media platform, has now removed the post in question, which featured Alfonso Ribeiro in character as Carlton Banks.
The much loved GIF of the Fresh Prince of Bel-Air star dancing was included in a tweet which had the caption: "We have news…" Which has now been described as an "unauthorised" offering by the account holders.
We're aware of an unauthorised tweet that was posted to the club's account late last night.

We're currently investigating how this happened. #afcb 🍒 pic.twitter.com/XLPkHcZCzN

— AFC Bournemouth 🍒 (@afcbournemouth) July 29, 2021
There have so far been no further details regarding the upload, and it's certainly left supporters baffled by the exchange ahead of the new Championship season following their failed playoff campaign last time out.
Bournemouth go into the new campaign feeling optimistic despite their playoff defeat to Brentford a few months ago, with former Fulham boss Scott Parker stepping into the dugout at the Vitality Stadium.
Ahead of their season opener against MK Dons in the Carabao Cup, which is played this upcoming Saturday, Parker has been left feeling positive by the display in their 2-1 friendly defeat to Chelsea.
He said on Tuesday: "Overall, I was really pleased in the sense of how we went about things. High energy, aggressive, front foot team that took it to Chelsea – which was brave of us.
"The team was brave in terms of that. Attacking-wise I thought we caused them some problems at times."
He added: "We were knocking on the door before the goal. I thought we were right in the ascendancy – the goal came which was good. The two goals (conceded) we are disappointed with.
"They were poor goals on our behalf. There were some really good things and some poor things.
"It's to be expected at this moment four weeks into pre-season. A group of players that are hearing a different voice, different rules, a different way of wanting to play at times.
"Along that journey, along that way at times there will be a couple of bumps and that was probably seen in the two goals we conceded."
Thinking about Bournemouth's now deleted post, it's go us thinking about when Leeds fooled their fans into thinking they were going to hearing of an incoming signing.
With 10 minutes remaining of the window, Leeds informed their followers: "Don't to go to bed just yet… there is still work to be done", naturally building excitement following their dire start to the Championship season.
They may well have been trying to bring someone in, but in the end the only 'work to be done' was to sell two promising strikers Matt Smith and Dom Poleon before signing off and leaving fans thinking WTF.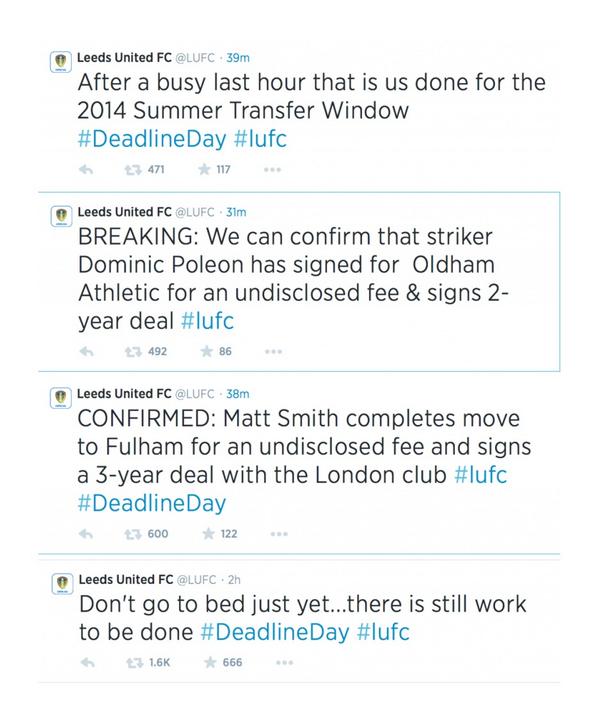 Fans reacted as Bournemouth investigate the 'unauthorised tweet' sent from the club's official account…
@fm_iconic: Can't be serious… 🤣🤣🤣
@matthewadams85: Was it an obsessed Watford fan?
@jg_077: Admins finger slipped
@Julianbarry: To be fair, it doesn't matter if it wasn't an authorised post, it got us all talking and raised a few smiles that we might have Carlton in the Cherry Best suit for 2021/22 season
@goateddanjuma: What a chance this is for you to announce something
@eddicoombs67: This is my club 😍😂🍒 #afcb
@AfcbAdam: Calling it now they will have a new signing with a phone getting "caught out " tweeting #afcb
@EddieHoweFC: ffs
@MaximusArvo: I don't know of any other club that posts a picture of the tweet that they're investigating. Strange.
@jamie_afcb7: GETTING SACKED IN THE MORNING 😂🍒 #afcb
@ltfcocr__: Either they're signing someone or they've just let their whole fanbase down
@AFCBNG: I mean if it was a real "breach" you wouldn't post a pic 🤔 #afcb
@palmer_would: Free the Wadmin
@UpTheBoroEl: just say your deal fell through and move on
@PATRICKAFCB: And I thought we actually had news 😭
@RossyQpr: Banter Club
@paul18280: Over excited insider…….. who hacks into an account, tweets ….. then deletes the tweet……?? 😳😎😁 #afcb
@phollaholla: AFC Boreoff Just announce something
@AfcbAdam: Just announce third kit with a new signing cheers x
@eddicoombs67: Don't be boring just announce something
@1AndyPurchase: Everybody back to bed.
@AfcbsLittleDan: Is this a trick to unveiling our new striker 😉🍒🙏
@daniel67323920: What so i got excited for nothing and stated up for nothing this has to be a joke
Hmmm I'm still expecting something…wouldn't usually see an unauthorized tweet posted in the message saying unauthorized tweet. Come on Bournemouth we've all got faith for the Haaland signing to be announced! pic.twitter.com/GFViLjR7Df

— Simon Mason (@mason_simon) July 29, 2021
All of us this morning. pic.twitter.com/a3oCZyTraF

— our.afcb (@OurAfcb) July 29, 2021
Are we signing Carlton from Fresh Prince? I think that's a good bit of business, the guy has some great moves! Parker probably loves his cardigan to be fair!
This is a bit of a coup for us, I understand there are a lot of other clubs interested in him!#embarassing #tinpot pic.twitter.com/P7FcrgKqgJ

— Steve Hensman (@stevehensman1) July 29, 2021
Me now pic.twitter.com/Bka1DXMkjM

— daniel afcb_fan (@daniel67323920) July 29, 2021
#afcb https://t.co/tPVCo1fCSN pic.twitter.com/AW6aJZie8d

— Paul (@PaulDon1989) July 29, 2021