A fresh update on Paul Lambert's future at Ipswich Town emerges on Wednesday morning with fans demanding that he is sacked.
According to the East Anglian Daily Times, Ipswich Town manager Paul Lambert retains the backing of owner Marcus Evans, leaving the supporters disappointed.
The Scot has been under increasing pressure for a while now and with 2021 beginning with a 3-2 home defeat to Swindon Town, it sees the Blues slip to eighth in the League One table.
Owner Evans offered Lambert a strong public backing at the start of December, insisting he 'would not be swayed' just days after fan group Blue Action called for him to be got rid of through a banner left on the gates of the club's training ground.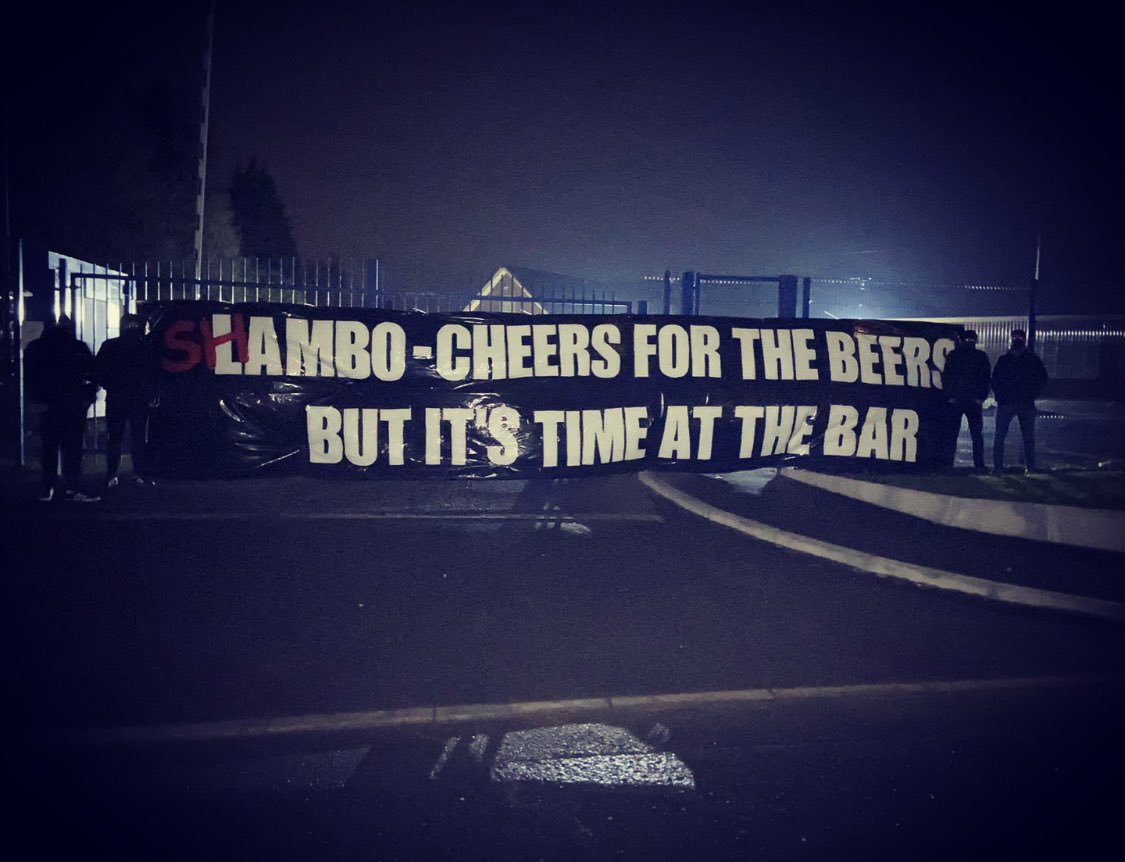 After hanging the banner, the group posted on social media: "Whilst it's been clear since at least last season that Lambert isn't up to the task of getting us promoted, we were reluctant to call for his head. We gave him support when he first arrived, despite his previous connections. We gave him another chance this season, despite how badly we collapsed last season.
"However, enough is enough and this cannot continue. We are now calling for him to be removed from his position. This season is too important for Ipswich Town to be allowed to just drift away again, and if Lambert stays much longer, it's obvious to all that it will happen again and we'll still be stuck in division 3 next season.
"The playing squad isn't free from blame, but it's obvious they're not being coached properly by the management team. Performances on the pitch are dismal, despite Lambert pretending they're not. We've no effective game plan, we get outplayed by teams with far less resources than us, and get brushed aside by the supposedly 'big teams' in the division.
"Change is needed as soon as possible. We are urging the owner to make that change now, before it's too late again. Promotion this season is a must, at any cost."
We understand that under-fire #itfc boss Paul Lambert still retains the backing of owner Marcus Evans.

Full story (by @AndyWarren_) 👇https://t.co/MSSTGj0Rtg

— Stuart Watson (@Stuart_Watson) January 13, 2021
Yet despite growing supporter frustrations, including the South West branch of the Supporters' Club's adding to calls for Lambert's departure, the backing towards the Ipswich boss looks to be retained.
The Tractorboys currently sit just a point off the play-off places, with games in hand on some of those above them, and it's understood Lambert is likely to stay as long as he gets the club in the promotion places, after bottling it a fair few times now.
Evans is understood to put a huge amount of faith in the fact Lambert and his team have been held back by a a dodgy injury list which has grown over the course of the season.
Meetings between Evans and Lambert in the summer took place around the introducing an 'attractive and technical' playing style and the owner is said to be keen for that to be seen through after saying he has seen 'green shoots' of progress.
Speaking after receiving Evans' backing in December, Lambert said: "I don't worry about things like that. Marcus and I get on really well and whether I left tomorrow or the next day I would still get on well with him and there is no problem there.
"He understands what's happened here. He's not a silly guy and he probably knows where he's gone wrong with a lot of stuff. He understands how difficult the role we're being asked to do is and how tough a gig this is.
"I can't control anything on the outside and I live in my own little bubble. I don't get involved in anything at all. I don't do social media or anything like that whatsoever. I was like that when I played too and didn't get involved in anything at all."
Sources at Portman Road have told Football Insider that there is growing unrest with relationships between Lambert and some of the senior players are 'fractured'. He has also reportedly clashed with his players in the dressing room.
Now the fresh update on Paul Lambert's future at Ipswich have caused even ore outrage online.
The South West Branch of the Ipswich Town Supporters' Club calls for manager Paul Lambert to be sacked – see the statement below..
"It is with a heavy heart that the Ipswich Town South West Supporters Branch are calling for Paul Lambert to be replaced as manager.
"Our branch was not formed to make statements like this.
"We are a large group of ITFC exiles based from Swindon down to Cornwall who have collectively followed Ipswich Town for many hundreds of years.
"We have nothing against Paul Lambert personally, and we acknowledge the good work he undertook to reconnect the club with its supporters at the start of his tenure.
"We also have nothing against Marcus Evans' idea of a long-term plan, or the principle of the club instilling a playing style throughout all its teams. We are, after all, a football club whose reputation was built on playing football the right way. After many years lacking an identity or style, we badly need one.
"Paul Lambert failed to get us challenging for promotion last season and we still fail to be competitive against 'promotion rivals' and teams in the upper part of the table. Wins against lower-placed sides are often unconvincing.
"Our possession-based football regularly fails to turn into chances or goals. Despite forcing multiple set pieces in the attacking half, we rarely trouble the opposition keeper. We see little evidence of Paul Lambert instigating a dynamic, high-tempo, tactically sustainable plan on the pitch. The playing style he directs makes us easy to play against and easy to beat. Substitutions are often made too late with the manager seemingly unable or unwilling to react in a timely way to exploit and counter opposition tactical formations.
"Above all, we see a group of very promising young players and some experienced pros – most of whom have spent their careers playing above League One – struggling to sustain a promotion bid at a level the club was last familiar with in the 1950s.
"While blame can also be placed at the door of underperforming players – who need to take their share of responsibility for the club's current position – and on coaching and training, the club's playing philosophy is the responsibility of one man and his staff, and that man has to be held accountable.
"The fanbase and the infrastructure are there and our traditionally patient supporters will again rally behind a manager once the team starts going places. Our view, as this season follows the pattern of the last one, is that Paul Lambert is not the man to see that potential realised and Marcus Evans should take decisive action before the financial implications of the League One wage cap is felt to even more effect next season.
"Halfway through our second season in League One, nothing in Paul Lambert's current plans and in-game management reassure us that he is the right man for the job.
"We urge the owner to act now so that a new manager has time to impose a playing style consistent with a realistic promotion bid."
Fans reacted as a fresh update on Paul Lambert's future at Ipswich Town emerges…
@AshleySymonds_: What are the odds on #itfc not sacking Lambert before the end of the season?
@BenDe_Ath: As my Dad says; 'Evans must have slept with Lambo's wife or something'. Only way to explain the thinking of our owner.
@shags1972: Just sums Evans up, we are like a play thing to him. the only decent tactic lambert has employed since being here was bluffing Evans into his new totally unwarranted contract. And who suffers, us the fans again. Would the last one out of Portman road please turn the lights off.
@ConnorMcCarth10: Absolute state of a club we are. An owner so out of touch with the club and football. A manger lacking ideas. At this point I'd say we're more likely for League 2 than the Championship.
@attyjaa: Evans is a very successful businessman. For reasons l cannot explain he is an absolute disaster as the owner(majority shareholder) of our club. It's him, a mouthpiece and two directors. Yes he has piled in millions mainly just to keep us afloat, but has achieved nothing else.
@FrayBarnard: The most depressing football club strikes again, what a waste of a season!!
@CrouchKieran: Another sad read about ITFC. More proof that Evans is the biggest problem at the club. What's worse is that he's dragged the club into such an unattractive state that no decent buyer will consider going for us. I hate to think what is going to become of ITFC in years to come
@TheTownFan: EADT please help us fans voice our opinion on Lambert. Someone has to give us a platform to speak if we can't go to games.
@lugsy10: Lose Saturday, gone, simple,thats with a decent owner. Marcus Evans sadly is taking the piss out of all us fans, club is toxic.
@thomas_legge16: Season ticket has just been cancelled. Not going to sit back and let them get away with ignoring what the fans want #itfc
@MikeFisherman69: Sums evans up. A Clueless buffoon. More and more fans dropping their season tickets. #lambertout #evansout
@MartinCoad86: 1- Evans is clueless. I lost any faith in him after his "Be careful what you wish for" comment showing how little he understands the clubs fans. 2- I have zero faith in Evans to hire the right man even if Lambert does go. We would end up with Simon Grayson or Chris Coleman. #ITFC
@andyn007: Beggars belief really!! Just because players back from injury not a reason to keep him, clearly there is unrest and the owner continues to dig himself a massive hole and he cannot get out!! #itfc
@paul_186 said as a fresh update on Paul Lambert's future at Ipswich: Having been given such a long contract I can't see Evans sacking him anytime soon. This club will just limp along as it has done for the foreseeable future. There's no unity at the club. No care or desire
@u2itfc: So, we wait until we inevitably have NO chance of promotion this season, and only then hand the poisoned chalice on to a newcomer. Season effectively wasted; best players gone in the Summer 🙁 #itfc
@CharlieDr_: The only reason he's backing him is because he doesn't want to pay the compensation, think everyone knows that yet he seems to think he can trick us into believing otherwise
@HeppysGolf: It's getting to the point where Ipswich fans want Burton to win on Saturday. That's a sad fact.
@lewyitfc: "remain in touch with the promotion places. " which equals when Evans can invoke a break clause, which saves him shed loads of money and condemns us to another season in L1!
@philipbyrne: Evans can't even wear his mask properly so hardly surprising that he's struggling to run a football club. #itfc
@chrisabiannn: Absolutely farcical. This owner knows absolutely nothing about football. The only way the message will get through is to vote with your feet, or in the current climate, your wallets. Cancel your season tickets, like me and many others have. Up to you, fellow #ITFC sufferers.
@CharlieWillsD: 8th place. We are 1 point off the play offs. We are 10 points off the top with 2 games in hand. There is still time to gain promotion. But not with Lambert in charge! We are worse off than this time last year & only going in 1 direction! Someone please show Marcus! #ITFC #LambertOut
@zach_ward1989: Christ. Lose at Burton and surely, surely, its over for him? #ITFC
@castaldojordan_: Utterly pathetic. Look at the calibre of managers out of work compared to the useless sack of shit we've got in charge. I am dumfounded a man with his appalling record has kept his job for so long. Any other club would of sacked him when we got relegated without a whimper. #itfc
@JO98___: That's pretty much the final nail in the coffin this morning seeing that and I assume it will be the same for many others