Arsenal Fan TV issue a statement after 'Mr. DT' is handed a three year jail sentence for stalking, assaulting and kidnapping his ex-partner.
Liam Goodenough, commonly known as 'Mr. DT', verbally abused his former girlfriend and threatened her with a knife after stalking her as she went on a date.
Goodenough, who was a long-time regular on AFTV, has been convicted of stalking involving serious alarm or distress, and kidnapping last year.
On the 5th of November at Aylesbury Crown Court, he was sentenced to 12 months' imprisonment, and was also handed a restraining order for a period of 10 years.
Now, following a referral to the Court of Appeal under the Unduly Lenient Sentence (ULS) scheme, Goodenough's sentence was increased to three years' imprisonment .
Goodenough was last seen on AFTV media on New Year's Day, having his say on Arsenal's 2-1 defeat to Manchester City. He became well known among fans for his rants following games.
AFTV issued a statement on Monday saying that Goodenough, 42, will never be used on their channels again.
"This morning we have been made aware of news regarding DT, who was a regular contributor on AFTV until July 2021," the statement read.
"We are utterly appalled and disgusted by his actions and totally condemn domestic abuse, or violence of any kind.
"DT had made us aware of personal issues in his life, however we can unequivocally say that the extent of the information made public by the Government today is new to us
"DT appeared on AFTV on 1st Jan when the severity of his legal case was unbeknownst to us. The recent developments come as a complete shock to all at AFTV.
"In light of the shocking news, DT will be offered absolutely no place on the channel again."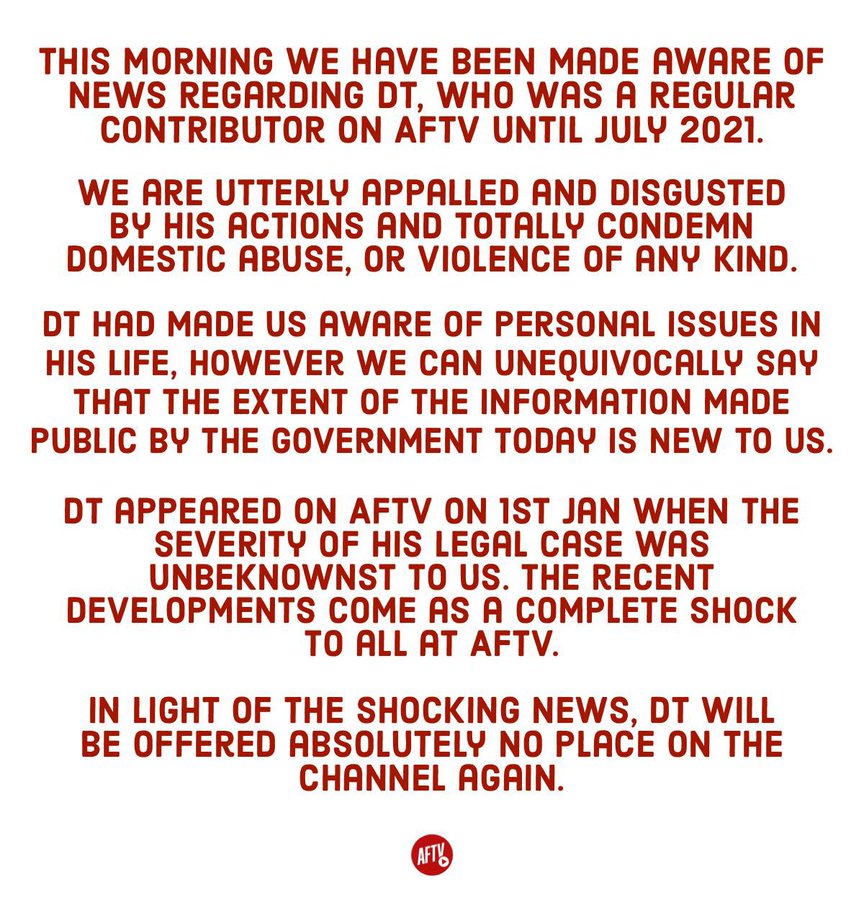 Aylesbury Crown Court previously heard how he stalked his former partner as she went on a date, jealously sending the victim's brother messages threatening suicide and demanding questions asking the location of the victim.
Using a tracking feature on her device, Goodenough drove to the hotel where the victim was staying at and verbally abused her, before assaulting her companion. He then took photos of her in a state of undress.
Goodenough dragged the victim out of the hotel room to his car, suggesting he had a knife and that her son was in the vehicle.
When she realised that her child was not in the car, she tried to escape and thankfully a bystander got involved, enough to help the victim out of the car, while Goodenough escaped.
Speaking after the hearing at the Court of Appeal, the Solicitor General, Alex Chalk QC MP, said: "Goodenough subjected the victim to a shocking and frightening ordeal. I referred his sentence because I considered it did not reflect the gravity of the offending and was unduly lenient. I am glad that the Court of Appeal agrees."
Domestic violence helplines
If you are in immediate danger always call the police, and always dial 999 if it is an emergency and press 55 if you can't talk (only on mobile phones). They have a duty to protect and help you.
If you visit any of these websites, please read the 'hide your visit' / 'cover your tracks' / safety information – or click on 'Exit Website'
Gov UK – Controlling or Coercive Behaviour
Controlling or coercive behaviour
The offence closes a gap in the law around patterns of controlling or coercive behaviour that occurs during a relationship between intimate partners, former partners who still live together or family members. This offence sends a clear message that this form of domestic abuse can constitute a serious offence particularly in light of the violation of trust it represents and will provide better protection to victims experiencing repeated or continuous abuse. It sets out the importance of recognising the harm caused by coercion or control, the cumulative impact on the victim and that a repeated pattern of abuse can be more injurious and harmful than a single incident of violence.
Martin Lewis: Financial abuse, joint accounts and managing money within relationships
Financial abuse is the hidden financial cousin of domestic abuse – it's all about dangerous, unfair control using finances. It can be subtle or brutal. So be aware of it both for your own relationship, and for others – but this blog's about more than that too…
Mankind
Helpline: 01823 334244
The Mankind Initiative supports male victims of domestic violence, though it helps all callers regardless of sex, race or sexual orientation. Call the helpline on 01823 334 244 at any time to receive up-to-date information on helpline availability or check out services at website. There is also a referral system for single men or men with children fleeing from domestic violence.
National LGBT Domestic Abuse Helpline
Helpline: 0800 999 5428
Emotional and practical support for LGBT people experiencing domestic abuse. Abuse isn't always physical- it can be psychological, emotional, financial and sexual too. Speak out, don't suffer in silence.
Men's Advice Line
Helpline: 0808 801 0327
Offers advice, information and listening support for men with experience of domestic abuse. Includes help for men in same-sex and heterosexual relationships.
Love Respect
Aimed at 16-25 year olds, Love Respect explores what is and isn't a healthy relationship – from physical violence to coercive control, how to get help and what the law can do for you.
AMIS (Abused Men in Scotland )(Mon-Fri 9-4)
Helpline: 0800 800 0024
We support men who are experiencing or who have experienced domestic abuse and also to offer advice to those concerned about the position of such men and their children. We work with any man over 16 concerned about domestic abuse, regardless of sexuality, transgender status or history, age, dis/ability, religion, race, nationality or ethnic origin and promote full recognition for male victims of domestic abuse and their affected children. We also promote specialist services to help relieve the isolation, distress and hardship faced by male victims and enable men and their children to recover from domestic abuse.
Scotland's Domestic Abuse and Forced Marriage Helpline
Helpline number: 0800 027 1234
Scotland's Domestic Abuse and Forced Marriage helpline is open 24 hours a day, 7 days a week, 365 days a year. We support anyone in Scotland who has experienced, or is at risk of experiencing domestic abuse or forced marriage, as well as those concerned about someone they know experiencing these. We can discuss your options and provide contact details to relevant support agencies. We will help you regardless of age, disability, sexual orientation, gender, nationality or background. If English is not your first language, we can speak to you through a confidential translation service.
The Dyn Project
Helpline: 0808 801 0321
The Safer Wales Dyn Helpline provides free confidential support to all men men who experience domestic abuse in Wales. We can provide: Information on services available in your area. Help in developing a personalised safety plan. Support in accessing other services and organisations. Someone to listen without judging.
Respect
Helpline for Male Victims of Domestic Violence: 0808 801 0327
Helpline for Domestic Violence Perpetrators: 0808 802 4040
Association for domestic violence perpetrator programmes and associated support services.
The Freedom Programme
Helpline: 01942 262 270
The Programme was primarily designed for women as victims of domestic violence, since research shows that in the vast majority of cases of serious abuse are male on female. However, the programme, when provided as an intensive two day course, is also suitable for men, whether abusive and wishing to change their attitudes and behaviour or whether victims of same sex domestic abuse themselves. The Freedom Programme examines the roles played by attitudes and beliefs on the actions of abusive men and the responses of victims and survivors. The aim is to help them to make sense of and understand what has happened to them, instead of the whole experience just feeling like a horrible mess. The Freedom Programme also describes in detail how children are affected by being exposed to this kind of abuse and very importantly how their lives are improved when the abuse is removed.